海損貨損檢定及顧問 G A Survey
發布日期
:[2008/7/10]
共閱
[1035]次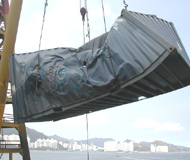 Performing surveys on the damaged cargo and containers in order to ascertain the nature, extent and cause of damage, and to objectively comment on when, where, how and why the damage/loss occurred, Subject to the circumstances observed and information submitted.
Finding out the cause of any shortlanded or overlanded cargoes based on the documents submitted.
Drawing samples from the cargo damaged and collecting their packing materials for laboratory and chloride tests.
Discussing and negotiating with all the parties concerned in the event of any cargo or container claims, for the purpose of reaching an agreement on the best possible method of disposing, repairing, reinstating the damaged cargo or container, or arranging a public auction of same.
Appointing consultants, experts, if need be, for commenting on the remedial measures with a view of minimizing any possible loss or damage, and preventing any further delay for installation, testing, commissioning and processing, especially on damaged project cargoes.
Marking recommendations concerning the methods of packing, handling and transportation of cargo to be shipped on the following shipments, for the purpose of minimizing or preventing any possible transit losses.
Rendering assistance to the cargo and container claimants, aiming at reserving their rights against liable carriers or any other parties concerned, and properly performing the duties of the Assured.